Biozyme EX3 Enzymatic Cleaner
Deodorizer and Fabric Freshener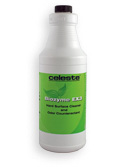 Biozyme EX3 is a multi-purpose biochemical cleaner, deodorizer and fabric freshener uniquely formulated to attack tough malodor issues. As a pH neutral cleaner, Biozyme EX3 easily removes stains and mineral deposits from hard surfaces. Rather than masking malodors with a strong fragrance, Celeste's Biozyme EX3 solves malodor problems using a 3-pronged approach.
First and foremost, it immediately neutralizes malodors by binding to the odor causing compounds, making them less volatile and, ultimately, less able to reach the nose. The product then replaces the malodors with a light, pleasant fragrance that infuses the air with a fresh, clean smell. As a final step, the product utilizes a myriad of selective, environmentally friendly spores to consume the odor causing organic material. Without the odor causing material, there is no source for additional malodors. As an added bonus, these friendly spores have the capability of lying dormant in a dry state until challenged with new organic materials.